TEMPUS Projekat 544543 MHTSPS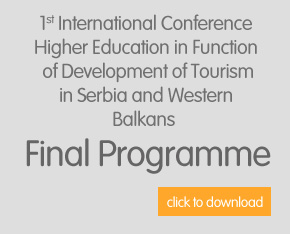 Improving the quality of higher education in tourism field can be achieved through modernization and harmonization of study programmes, on one side, and conducting training courses, on the other. The starting point in achieving these objectives is analysis of tourism market needs. Developing a new study programs (or modules) or improving the existing ones will be performed in compliance with the obtained results of the analysis. The best EU practice in tourism higher education field shall also be taken into account.
Project logo It is planned to develop a flexible education system, with precise definition of learning outcomes, competencies of graduate students and modalities of further education. The common basis for Undergraduate studies will be developed. This means that all redesigned undergraduate study programs at partner higher education institutions from Serbia will have in common at least 50% of the subjects (such as Tourism Geography, Introduction to Tourism, Tourism Management, English language). Common basis will be upgraded through subjects and modules that reflect the actual Tourism needs of the region where the higher education institution is situated. In this way, the tourism specificities of certain parts of Serbia can be incorporated in the study programs. Furthermore, BTC will develop postgraduate study program in Ecological Tourism in order to educate the cadre for the needs of National Parks and protected nature areas within Zlatibor County. Pursuant to above mentioned, the Faculty of hotel management and tourism will prioritize the spa and the health tourism, and the Colleges from Novi Sad and Leskovac will incorporate the tourism specificities of Vojvodina and South Serbia in their study programs. Special activities in project will be dedicated to setting up infrastructure of higher education institutions for realization of study programs.